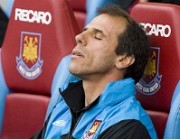 So rumour has it that the mighty triumverate is about to be reunited, with Zola due to link up with Godfather Nani and Grand Puppet Master Duxbury at Watford some time next week. The club which achieved success employing Graham Taylor's route one football is about to embrace Zola's tacky…
See the original post:
Zola Pulling In To Watford Junction!
I've been a passionate Hammers fan since i can remember. Growing up in Canning Town i was always down Upton Park as it was only a 10 minute walk down the Barking road. Always and forever West Ham Till I Die !
Latest posts by Upthehammers (see all)