Whisper it quietly, but the Hammers could qualify for Europe this year. As the league table stands, West Ham are in fourth place, above current champions Liverpool and two points above fith-placed Chelsea. Compared to previous seasons, David Moyes' men are flying having already accumulated 45 points from 25 games.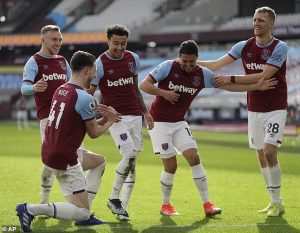 With 13 games remaining, some Hammers' fans might be cautious about the club's ambitions. However, this season is very different, not least because the East London side looks odds-on to quality for a European place in 2021/22. You might think that prediction is optimistic, but here are the reasons why it's realistic.
West Ham's Rivals Are Struggling
Normally, we couldn't say that Liverpool, Chelsea and Tottenham might not qualify for Europe. However, the form suggests that they need to pick up the pace quickly if they're going to make a last-minute dash for the top five or six places.
Liverpool's role reversal is well-documented, and the club's injury woes mean they could miss out on Champions League football next season. Chelsea, meanwhile, are under new management and bound to hit a transition period between now and the beginning of May. Thomas Tuchel's appointment has started okay, yet his squad must improve dramatically.
Lastly, there is Spurs. Jose Mourinho looks as if he's lost his mojo with player revolts and four defeats in the last five outings. Throw Everton's tough fixture list into the mix – the Merseyside derby is this week – and Carlo Ancelotti's team's games-in-hand suddenly disappear. As a result, the Premier League betting has West Ham at 6/1 to qualify for the Champions League only. Of course, there are more European places up for grabs.
The Carabao & FA Cup Equation
Around this time of the year, the statisticians get their abacuses out and try to predict what will happen in each competition. It's pointless since football is unpredictable, yet it's wrong to dismiss the role of other tournaments entirely.
This is because the Carabao Cup and FA Cup offer extra chances to get into Europe for the finalists. West Ham aren't in any of the draws for either, so it appears as if it doesn't matter. However, who wins and who are runners-up decides the fate of the top six. For instance, Man City and Tottenham will compete for Carabao Cup silverware. If both are in the European places, the next placed team in the division will be offered the chance to qualify for the Europa League.
The same goes for the FA Cup. Both scenarios are likely considering the quality of teams left in the competition. So, as long as the Irons remain in and around the top six, another route could open up.
A Not-So-Full Fixture List
If anything, West Ham's poor performances in cup tournaments could help them this year. After all, competitors such as Spurs, Everton, Chelsea and Leicester have domestic finals and quarter-finals to contend. Liverpool and Chelsea, on the other hand, are also in the Champions League's round of 16.
The Hammers only have to concentrate on the Premier League, which gives them a distinct advantage considering the number of ties left. Only 1% of supporters feel the squad has a shot at Champions League glory next season, yet this should change the farther the top teams go in domestic and European competitions.
Champions League qualification could be a stretch, yet the Europa League is well within the team's sights. Who knows? The crazy game might swing the odds in Moyes' men's favour.
The following two tabs change content below.

I've been a passionate Hammers fan since i can remember. Growing up in Canning Town i was always down Upton Park as it was only a 10 minute walk down the Barking road. Always and forever COYI ! West Ham Till I Die !

Latest posts by The Gaffer (see all)