Joey Barton has had a very peculiar journey already in the 2015/16 football season. After leaving QPR following the club's relegation following the last Premier League campaign, Barton took his time finding a new team to play for, and as is commonplace with the chatty midfielder, he was rather cheeky about it. "Better get myself a club then…" he wrote in response to the Community Shield signaling the start of a new season, and even then he appeared to have nothing in the works. Some thought Barton would return to France, others believed he'd stubbornly seek out Premier League work, and still others are past caring where Barton plies his trade.
Earlier this autumn, of course, Barton actually appeared to come quite close to signing on with West Ham in what would have been a free-transfer addition of a quality midfielder. Evidently, management was ready to make the move, but it ultimately bowed to widespread fan pressure over the player's chequered past. In other words, the West Ham supporters rejected the idea of bringing Barton aboard due to his reputation for getting in trouble and subjecting himself to hefty fines. Indeed, Barton has actually paid more in fines than all but four EPL players in history (just over £100,000 total). It was perfectly understandable that he wasn't welcomed with open arms, though perhaps somewhat surprising that supporters' preferences ultimately swayed management.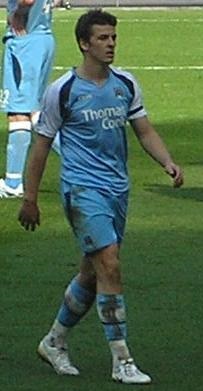 Interestingly enough, Barton posted a video praising the club and thanking fans who sent him kind messages on social media immediately after the deal fell through. He also acknowledged that, with his past and his character, there are always some who are less kind or complimentary, but he seemed to dismiss this as the way of the world at this point in his career. All in all, it was a heartfelt message that almost made you wonder if a 33-year-old Barton playing for West Ham may have actually displayed a little bit more maturity.
We'll never know, of course, but that may have been the case. Barton ended up with Burnley playing in the Championship this season, and he's not yet landed himself in trouble. In some ways, he's even emerged as something of a leader for Burnley, displaying a touch of class in recent matches that has been one of a few bright spots for a club that's fighting for a genuine shot at promotion. Burnley currently sits in third in the Championship standings, just four points back of leading Brighton.
And if that were the whole story, it may look as if West Ham rushed to judgment and missed an opportunity. Barton has seemingly calmed down, and he's helped Burnley to a very strong campaign thus far, demonstrating quite clearly that he could still compete in the EPL. The question at this point, however, isn't about whether he'd have kept calm or played up to the league level—it's whether he'd have even been needed. At the time of the would-be signing, West Ham was projected to be a competitive club, but surely not the top-three team it's become since. As one of only three EPL teams to have scored 20 or more goals through the first 10 matches, it's safe to say that the attack for West Ham is doing just fine without Barton's flashes of brilliance in the midfield.
In the end, it appears that the Hammers may have missed out on a potentially interesting storyline. But in terms of the action on the field, there's no need to wonder what impact Barton would have had. West Ham, as it turns out, didn't need him.
The following two tabs change content below.

I've been a passionate Hammers fan since i can remember. Growing up in Canning Town i was always down Upton Park as it was only a 10 minute walk down the Barking road. Always and forever COYI ! West Ham Till I Die !

Latest posts by The Gaffer (see all)